September 19, 2020
Taipei, Taiwan,— Advantech, a leading embedded computing solutions provider, is pleased to announce COM-HPC, a series of high-performance Computer-on-Modules. COM-HPC complements Advantech's Computer-on-Module line and meets future performance demands in edge computing. Advantech, a member of the PICMG® COM-HPC subcommittee, has been integral in defining the specifications for over two years, and is scheduled for ratification in the end of 2020.
"PICMG Is excited about the pending completion of the COM-HPC specification. Advantech continues to be a leader in IoT intelligent systems and embedded platforms. Their commitment to the development of COM-HPC will lead to the rapid adoption of the forthcoming open specification." said by Jess Isquith, PICMG President. Advantech's newest COM are excellent solutions for mobile server designs aimed at delivering instantaneous efficient service. Additionally, COM-HPC will be very helpful to accelerate the deployment of 5G micro base stations.
Modular Design Enables Quick Deployment and Easy System Migration
COM-HPC, a future-proof next generation solution, supports unified server and client pinout types. This COM doubles the I/O interface on a single COM-HPC module to ease configuration in different systems. Additionally, COM-HPC delivers greater performance and extension capabilities to meet bandwidth requirements and supplement computer-on-module solutions. This new industrial standard retains the benefits of computer-on-modules; and facilitates the optimization and adoption of next generation solutions without changing carrier board designs/system architectures.
High Core Count and Memory Capacity Delivers Excellent Performance
To facilitate power input and improve I/O expansion capabilities, all 5 COM-HPC models (A ~ E) feature 800 pin definitions via 2x 400pin board to board connectors. The available board sizes facilitate the adoption of high-level processors. Larger model COM-HPC are compatible with 4 ~ 8 pcs long DIMM memory expansion. Additionally, the system's TDP supports 110W processors. COM-HPC accepts power inputs over 300W to deliver excellent performance with powerful devices. Size E features 1TB memory via 8x pcs long DIMM memory capacity. Size C offers 128GB via 4x pcs SODIMM (Figure 1).
Advanced Data Transmission and I/O Expansion
COM-HPC supports higher bandwidths via innovative board to board connectors. These solutions offer up to PCIe Gen 5 (32GT/s), and can be scaled up to 65 lanes. They feature ports for 4x USB 4 or USB 3.2 Gen. 2 x2, up to 10GBASE-T and 8x ports 25GBASE-KR with sideband signals. COM-HPC also features more low power I/O such as 12x GPIO, SPI, IPMB, I2C, and SMBus for intelligent system management.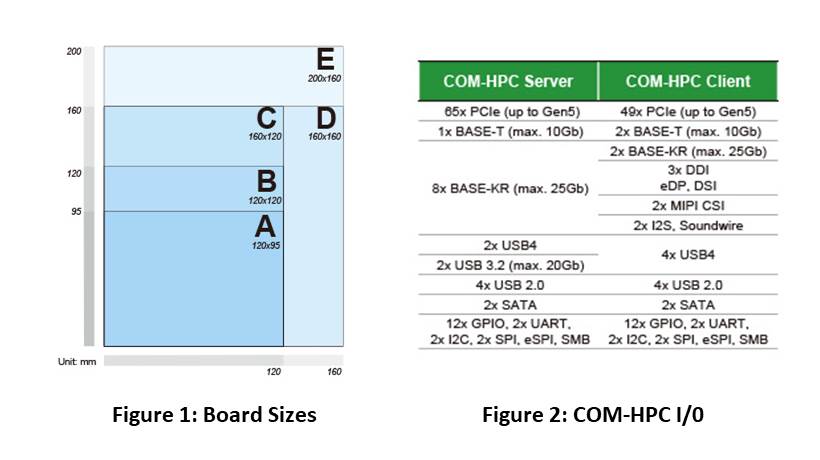 Advantech will release a COM-HPC evaluation kit called SOM-8990 and a carrier board called SOM-DB8900, in the fourth quarter of 2020. This will be a server pinout equipped with Intel Xeon® D processor. For more information regarding COM-HPC or other Advantech products and services, please contact your local sales support team or visit our website at www.advantech.com.
Key Features:
• Intel® Xeon® D 16Core/TDP 110W processor
• Up to 512GB memory with 8pcs 288pin RDIMM/LRDIMM
• Up to 45 lanes PCIe Gen. 3 (x16, x8, x4, x1), 4x ports USB 3.0, & 2x ports SATA III
• Up to 4x ports 10GBASE-KR, and 1x port 1000BASE-T
• Pinout: COM-HPC Server type • Dimensions: Size E 200 x 160 mm (0.65 x 0.52 in)
About Advantech
Advantech's corporate vision is to enable an intelligent planet. The company is a global leader in the fields of IoT intelligent systems and embedded platforms. To embrace the trends of IoT, big data, and artificial intelligence, Advantech promotes IoT hardware and software solutions with the Edge Intelligence WISE-PaaS core to assist business partners and clients in connecting their industrial chains. Advantech is also working with business partners to co-create business ecosystems that accelerate the goal of industrial intelligence. (www.advantech.com)