February 27, 2020
COM-HPC: a new PICMG Computer-on-Module for High Performance Edge Computing
The PCI Industrial Computer Manufacturers Group (PICMG) is now entering the final stages in the development of the new COM-HPC computer-on-module specification that will address the needs of the very high end of the industrial edge computing market. The COM-HPC specification is intended to extend on the success of COM Express, not to replace it, and is expected to be released around Q2 of 2020.

Edge computing is a fast-growing segment requiring ever higher performance. The system memory requirements of current and future high-end embedded multi core processors have grown very steeply. Existing popular form factors such as COM Express cannot provide cost effective solutions when memory requirements approach 128 GB or 256 GB. This is where COM HPC comes into play. Five sizes are defined with the largest intended for use as a server module that allows for up to 8 DIMM sockets onboard.

Support for compute intensive platforms
COM-HPC supports processors with a TDP of up to about 150W. The specification not only handles the latest high density processors offering 16 compute cores at around 110W, but also reserves 30-40W headroom for future designs that will support even more cores and may require additional power in the following decade.

Maximum memory capacity
The memory requirements of high-performance embedded multi core processors have greatly increased and platforms must support enough memory to achieve the expected high levels of performance. COM-HPC supports up to 8 DIMMs, allowing for a maximum of 512GB memory capacity based on the latest and most popular memory solutions. As memory technology advances, COM-HPC will be able to support even higher memory capacities.
High bandwidth interfaces
COM-HPC supports up to 64 general purpose PCIe lanes and 1 dedicated PCIe lane for connecting to the IPMI BMC on the carrier. PCIe configurations with more wide link-width combinations than were supported by COM Express are achievable with COM-HPC, such as 4x PCIe x16 or 8x PCIe x8. Initially, PCIe Gen 4.0 is supported and PCIe Gen 5.0 support will come as a totally new high density and high speed connector is phased in. The most popular interface for peripherals, Universal Serial Bus, has also taken been taken into account. A maximum of four USB 4 ports are supported by COM-HPC to provide 20Gbit data transmission. Furthermore, Ethernet connectivity is provided by up to eight 10GbE ports or the equivalent of two 100GbE ports.

Module sizes
Five module sizes are defined in the COM-HPC specification. The largest is Size E, and is 200mm x160mm with room to accommodate 8 DIMMs. In contrast, the smaller board sizes are intended for use as client platforms utilizing SO-DIMMs or soldered onboard memory. Integrators can choose the size of module that best meets their application requirements.

Feature set and pinout
Two different pinouts with different feature sets are supported by the specification: COM-HPC Server Type and COM-HPC Client Type. The Server Type feature set is focused on intensive data processing and connectivity, and supports a maximum of 64 general purpose PCIe lanes and 8x 10GbE ports. In contrast, the Client Type is intended for generic applications, and supports multiple display interfaces, multiple audio interfaces and even a MIPI-CSI camera interface. Both feature sets utilize two connectors, called the Primary connector (J1) and Secondary connector (J2). In order to accommodate specific use cases, especially in Client implementations not requiring the complete feature set, essential and fundamental features are allocated on the Primary connector (J1) so that the second connector can be eliminated to benefit the total cost structure.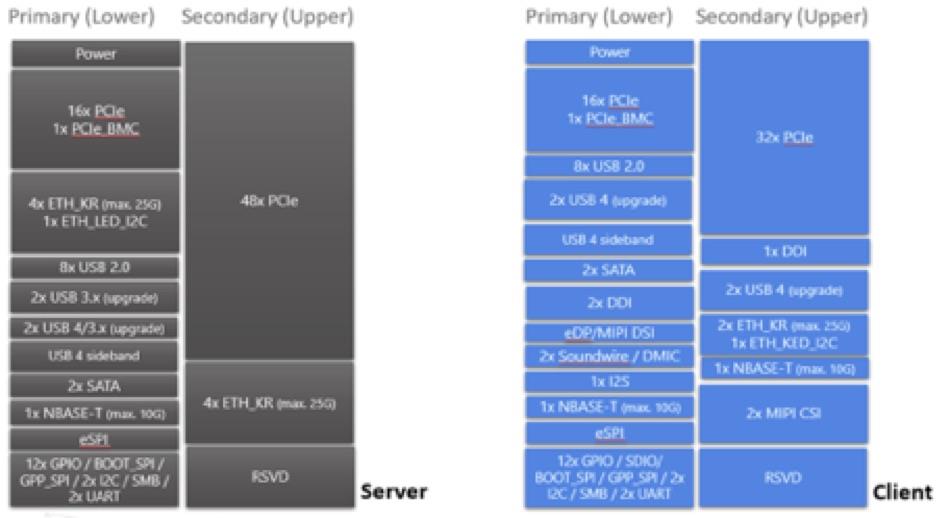 Totally new, high density, high speed connector
A 400-pin 32 GT/s (PCIe Gen 5) capable connector is defined for COM-HPC. In standard implementations, each COM-HPC module has two board-to-board connectors on the underside of the module: the Primary connector (J1) and the Secondary connector (J2). The height between the module and carrier board is 10mm by default and can be changed to 5mm by selecting connectors of different heights.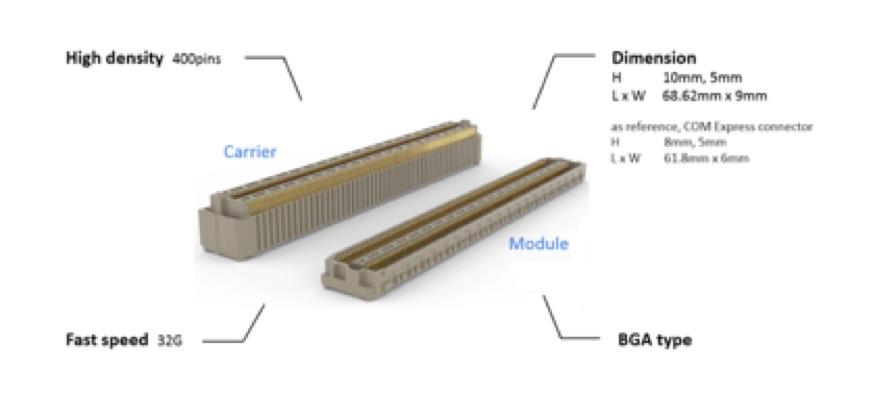 ADLINK COM-HPC moduleA proof-of-concept COM-HPC module will be revealed at Embedded World 2020. The module has a Server Type feature set, is Size E (160mm x 200mm) and provides up to 16 computing cores in a 110W platform with 8 DIMMs. A heatspreader is mounted on top of the module to extract heat to an external cooling device. To see the new COM-HPC module, visit ADLINK's booth at Embedded World 2020.
For more information go to: https://www.adlinktech.com/